Indonesia Approves Tax Amnesty to Fund Widening Budget Gap
Indonesia's parliament approved a tax amnesty that the government says will draw in billions of dollars needed to finance a widening budget gap as it steps up infrastructure spending to spur economic growth.
Lawmakers voted in favor of the bill during a plenary session in Jakarta on Tuesday, among the final steps before it becomes law. Individuals who repatriate undeclared assets held abroad will face a penalty of 2 percent to 5 percent, according to the bill.
President Joko Widodo is facing a revenue squeeze in the face of weaker commodity prices and slower growth in Southeast Asia's biggest economy. To keep the budget deficit under 3 percent of gross domestic product, Widodo is banking on the tax amnesty to help plug the shortfall.
The central bank estimates the tax program — which will be implemented in July and run for a maximum of nine months — will help draw 560 trillion rupiah ($42.5 billion) of funds back to the country. Almost 30 percent, or 165 trillion rupiah, will flow to the government, Finance Minister Bambang Brodjonegoro said on Tuesday.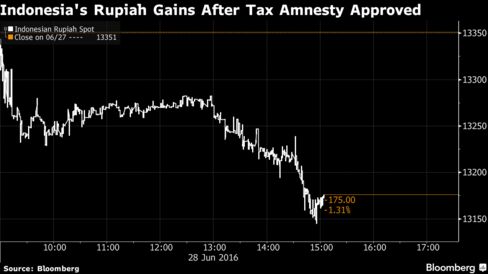 "The first benefit from the tax amnesty would be the potential for capital inflows, which will really help the economy that's currently seeking new sources of growth after a period of low commodity prices," he told reporters. "We hope this will boost growth."
Indonesia's rupiah and equities gained after the decision. The currency strengthened 1.2 percent to 13,188 against the dollar as of 4 p.m. in Jakarta, the highest level since May 3, according to prices from local banks. The Jakarta Composite Index of shares rose 1 percent.
DBS Group Holdings Ltd. estimates that the budget deficit for January to April stands at 158 trillion rupiah, more than double the amount recorded in the same period last year.
 "Tax amnesty could bring the much needed extra fiscal revenue for the government, but it is unlikely to completely remove the need to widen budget deficits and/or cut spending this year," Santitarn Sathirathai, an economist at Credit Suisse AG in Singapore, said in a note to clients. The deficit will probably reach 2.9 percent of GDP this year, higher than the government's revised forecast of 2.4 percent, he said.
The amnesty bill sets a penalty of 4 percent to 10 percent on individuals who report assets held abroad but decline to repatriate the funds. Participants must keep the funds onshore for three years.
Credit Rating
In a country of 255 million people, Indonesia only has 27 million registered taxpayers, according to the government. S&P Global Ratings held off on upgrading the nation's credit ranking earlier this month from junk, saying it wants to see better quality spending and a declining trend in budget deficits.
The tax amnesty was seen as a test of political support for Widodo. His administration earned a majority in parliament when Golkar, the second-largest party, left the opposition to formally support him in May. A majority of parties at the finance commission agreed to approve the bill, while adding lengthy disclaimers to their decisions.
"Empirically, the success rate is minimal and countries that do this are seeking to plug shortfalls," Kardaya Warnika, a lawmaker for the opposition Gerindra party, said at a parliamentary committee meeting on Monday. "If the country isn't in a revenue crisis, then Gerindra would reject this bill, but because the country is in a crisis, then Gerindra accepts."
Source : http://www.bloomberg.com/news/articles/2016-06-28/indonesia-approves-tax-amnesty-to-help-fund-widening-budget-gap